In all my days of DIY, this has been my biggest project to date. And you know what? I'm super dang proud of how it turned out! It took me about 2 weeks, but if I were to add it all up it was only 3 or 4 days worth of actual work because you know, stay at home mom. I love how custom built-ins can just make a space. My niece asked me if I would build her some in their house they just bought, and I jumped on the chance because I'd always wanted to build some. I'm just counting down the days until my husband and I can buy a house of our own so I can give it a good DIY treatment MY way.
Getting Started
I was a little intimidated at first with this project, but decided to jump in head-first and get it done. I started by taking the measurements of the wall and getting a feel for the kind of built-ins my niece wanted. Then I took what I had in my head and sketched it out on some graph paper so I knew exactly what I wanted it to look like, what dimensions it needed to be, what materials I needed to buy, and every cut I needed to make. This is where things start to get REAL technical. It's important when you do this step to think of EVERYTHING. There were a couple of minor blunders I made during this step that set me back just a little bit, but it all turned out okay in the end, and I didn't end up too far off the estimated budget. The entire build cost a little over $430, not including paint.
Materials
*Amount of materials are based off of my wall dimensions, which were 11 feet long by 9 feet tall. Yours may differ.
6 sheets MDF **Note: After more experience working with MDF, I only recommend it in certain circumstances. Paintable plywood would be a better option here for durability purposes.**
5 – 2 x 4 x 8 boards
160" crown molding
3 2x12x8's OR 1 2x12x8 and 2 2x8x8's for counter top
1 1/2" screws
1 1/2" Brad nails
Paint
1 sheet 1/4" plywood or more if you want to add backing to your shelves before installation
160" Decorative trim for header
Tools
Table Saw or Circular Saw
Miter Saw
Saw guide (if using circular saw)
Brad Nailer
Pocket Hole Jig
Hand Drill
Level
Speed Square
Drywall Square
Pencil
Begin the Build
After I removed the baseboard from the wall, I built some simple boxes with 2×4's to act as the base for the lower cabinets, making sure to add 4 inches to the middle section for a little deeper shelving. I attached these to the wall studs with 2 1/2″ screws.
Next, I built the basic bookshelf structure for the lower portion out of 3/4 inch MDF. Hint: If your bookshelves are going to be longer than 32 inches in width, MDF will eventually start to bow if not properly reinforced. My shelves here are 36 inches, so I factored into the build some extra material that I will show you later on.
I measured and attached the shelves with a combination of brad nails and screws, but you're going to want to be careful about where you place your screws on the middle section, because if they're found in the first 4 inches of the middle shelf, they will be seen! Learned that one the hard way.
Next, I attached my shelving units to the wall using screws where they wouldn't be seen in upper corners and brad nails everywhere else there was a stud in the wall.
Now looky here! Things are starting to get exciting! Also, don't forget to attach the shelving units to EACH OTHER as well.
From here, I decided to finish the lower portion all the way with the trim before I built the upper bookshelves. I ripped 3 inch strips of MDF, cut them to size, and brad-nailed and glued them to frame out the sides of the bookshelves. I only cut out 2 inch strips for the trim that divided the shelves, and 4 inch strips to cover up the base of the shelving where the baseboard would be reattached. It added such a nice finished look, don't you think?! I also built the counter top with another layer of MDF and trimmed it out.
Note: MDF is NOT the best material to use for a counter top. If it gets wet (i.e. someone sets a cold glass of water on it) the MDF will swell up and it will only go away with heavy sanding and re-painting. I ended up using several heavy layers of this clear coat to water-proof this counter top. If possible, the top should be made of solid wood or another sturdy material which you can do quite cheaply with 2 x 12's attached together. The reason we did not do this because at the time the 2 x 12 selection was poor and we could not find any straight pieces. I also do not own the tools to mill my own. Another option would be to use MDF that has been laminated.
Edit: I would also NOT recommend building the face frame with MDF. This should be done with solid wood (which can be done inexpensively by using pine or whitewood). The MDF just isn't solid enough to hold the hinges in place for very long with the doors constantly swinging open and closed. Wood is much better suited for this and will last longer.
Upper Shelving
Next, repeat the same steps for your upper bookcases. To attach each bookshelf to the frame, I used screws on the sides that we're going to be up against the wall. On the sides that we're going to be visible, I glued and attached them with A BUNCH of long brad nails. You'll want to make sure you use a level and a square when attaching the shelves to make sure they don't tilt one way or the other. I also made sure to leave plenty of room at the top of my bookcase for the headers.
I attached these to the studs in the wall as well, this time only using long brad nails.
At this point I was ready to brace up my shelving. I used long square wooden dowels, lined them up underneath each shelf with the front of each shelf, and used brad nails to secure them. I also did this with the shelves in the lower portion that I had already covered with the frame. I didn't grab a picture of it, but I also used strips of quarter round to brace up the back of the shelves as well. I chose quarter round because it would be seen, and it makes for a nice-looking trim.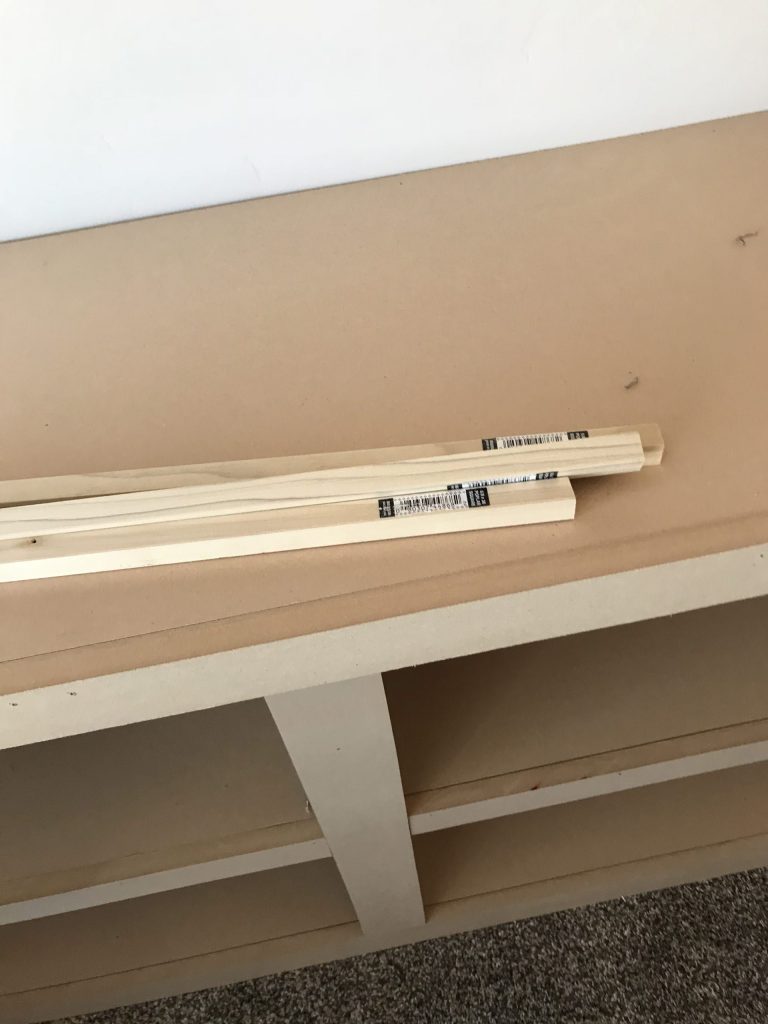 I then cut and nailed on my header boards. I wasn't too concerned with getting them all the way to the ceiling because I knew I'd be covering up the gaps with crown molding.
Up until this point, my niece was undecided if she wanted the header to extend across the whole length of the wall. I thought it would add a nice touch, so I talked her into it. Had I known we were going to do it, I probably would have gone about things a little differently and extended it across the top the bookshelves on either side so it had something to rest on. Instead, I ran some cleats along the wall and the sides of the bookshelves that I screwed into the studs in the walls, and framed it in from those.
I didn't show it in the pictures, but I also ended up adding cleats underneath the middle header after I nailed it up, just for added support. MDF is quite heavy and I didn't want anything coming down over time.
The next step was to add the crown molding, a trim piece to cover up the seams (I also used putty to fill in the vertical seams and sanded it down so it wouldn't show underneath the paint) and then put the baseboard back on.
The length of the entire wall was longer than 8 feet, and I could only find trim in 8 foot sections (not the crown molding, that came in 12 foot sections). To join them together without butting them up to each other, I just cut them at opposite angles which hid the seam much better. Once I caulked and painted, you wouldn't know where one started and the other began!
My least favorite part of the whole building process is caulking, but it must be done, and I will say that it makes the whole project look like a million bucks when it's finished. Before I painted, I caulked, and caulked, and caulked! I think all the caulking took me a full day of work. I made sure to get every seam I could find that would show.
Now on to the good stuff! It was time to paint! I used my HomeRight Finish Max paint sprayer I got for $60 off of Amazon. It's a killer deal, and I love how simple and easy it is to use and clean! The air compressor is built in, so there's nothing heavy to lug around. All you need is an extension cord and you're in business.
Ahhhh. It's so satisfying to see days of hard work finally pay off! I removed the TV and started to paint behind the wall behind the shelves. The color is called Fly-by-night Blue by Valspar paint. It was perfect! I wanted a beautiful dark Navy color without being too blue. I also painted several coats of water based Polycrylic on the counter top portion after it was painted to water-proof it.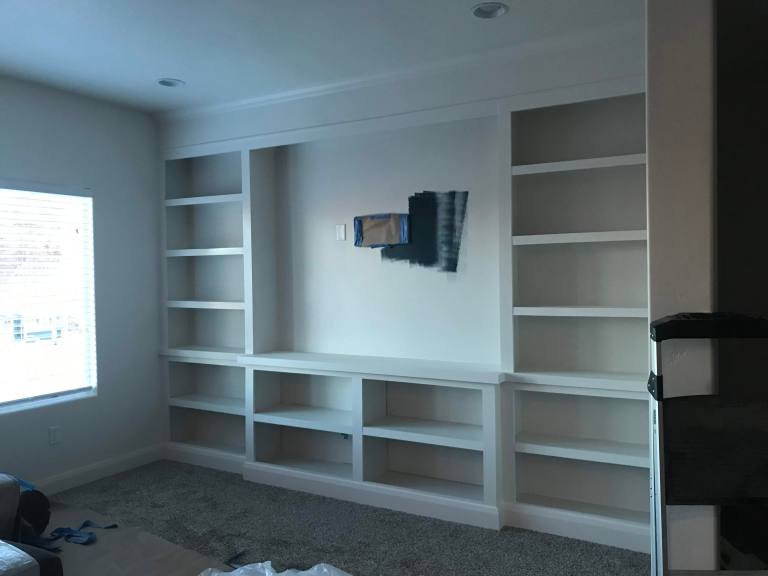 The last step of the building process was to build the doors, which I totally spaced getting pictures of. But, since this post is long enough already I'll just write a separate post about how I did that later. I hung the doors, added the hardware, and decorated!
Isn't it beautiful???
If you've been following me on instagram, you might remember me doing a story on these little pottery-lookin' guys right here. Those are another DIY that I'm really pleased with. I'll have an official blog post about that later as well!
While my shelf decorating skills have improved quite a bit, the basic principles remain the same as they always have. If you want to learn how to style your own book shelves like a pro, check out an old post I wrote on how to do it!
Thanks for following along with me on this project. It was so much fun to do! I would love to see any projects you do that were inspired by this one! Be sure to tag me on Instagram so I can see, or just leave me a comment below!
XOXO,
Crystel